Free Shipping AND FREE Mini Tote On Orders Over $150.00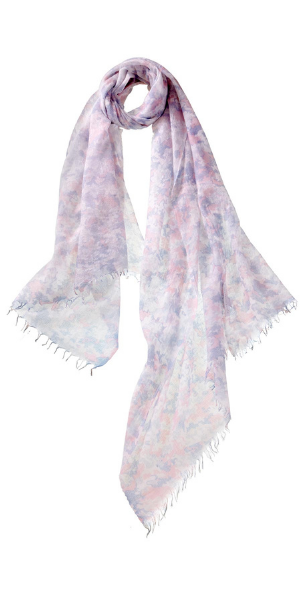 Clouds Featherweight Scarf in Pastel
Alpine Cashmere Clouds Scarves, made from 100% featherweight cashmere, are skillfully hand-woven, hand-dyed, and hand-felted in small batches in Nepal, where there is a centuries' old tradition of this artisanal craft.

Our special felted cashmere is more durable than regular featherweight cashmere, and therefore can hold up better during daily use and travel. Style it as a scarf, shawl, wrap, or even beach cover-up.
Cashmere offers lightweight, moisture-wicking, temperature-regulating warmth, so it keeps you warm in the winter but also performs better than cotton in the summer, making it the ultimate 4-season fiber.
The Felting Process: The scarf is woven in a size that is larger than the finished piece. It is then felted by hand (a process of washing and gentle agitation to aid in the interlocking of the very fine cashmere fibers). Felting cashmere adds bulk, softness, and loft to the finished scarf.
100% Felted Featherweight Cashmere
28" x 78" | 71cm x 198cm
Made in Nepal
A FEW OF OUR FAVORITE THINGS